So this trail was "founded" by
Sir Alfred Wainwright
who wrote many books, mostly about walking. He wrote the first definitive guide to the C2C trail, it seemed like just a collection of walkways beforehand.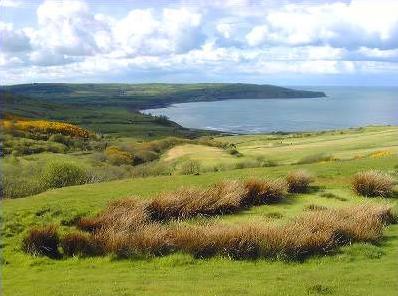 This trail highlights a lot of the best of England: the
Lake District
, the
Yorkshire Dales
, and the
North York Moors
. So lakes, hills, rocky bits, and... moory bits. Actually the Moors are a great place to see fields upon fields of the purple Heather flower in bloom, but not when I am going. Of course as seen above you go from the Irish Sea to the North Sea, and Wainwright suggested 'baptizing' your boots in each of them when you come across it. Some take a pebble from one beach and put it on the other. A symbolic gesture to the true beginning and end of the walk (although mine will probably be to the nearest
Chippy
)
So there you have it, a tad bit of history, a brief description of what I will be traversing across, and perhaps a bit of humour thrown in for good measure. If you want more (better) information, try these places:
coast2coast.co.uk: This is how it all started for me
http://www.sherpavan.com : Great Place to see where to stay and a brief description of all the towns, as the name suggest they also move your luggage around for you for a fee
Coast to Coast Path by Henry Steadman: Contrary to popular belief, people still buy books these days... true they can get wet, but at least they don't run out of batteries
Might buy a trail planner or an actual map but I am not sure how the one in the book I own compares, a little more reading will help to determine how good it is.... Or I might just buy it to be safe because the last thing I want is to be lost.
Next Post: My plan of attack, with accommodation (hopefully)
map from: http://www.contours.co.uk/walking-holidays/maps/coast-to-coast.gif
Moor picture from: http://www.executivetaxis.eu/taxis_photos/North_York_Moors.jpg