Hooray sick day! Not really, but in an effort to keep myself occupied between the sneezing and nose blowing I figure a blog post may be in order :)
Exercise
As the Tromsø Polar Night Half was the previous Saturday I was keeping running minimal while doing other workouts such as Body Combat and Strength Training via the CustomFit app by FitnessFirst. I concede that strength workouts are quite important and also vital if I want to get rid of the muffin top 'side fat' I cannot seem to lose. Body Combat is such a fun workout you almost forget your are working out :)
I did mange a 10k run on Friday afternoon and boy was it lovely! Although it was chilly the sun was out in full force so it felt amazing. At that point I realised how happy I was that I didn't force myself out of bed for a morning run, else I would have missed out.
I find it very hard to run in London and NOT stop and snap a few photos, especially when I can potentially get an angle that is different from the countless thousands taken every day along the Thames Path. With the tide being low, I was able to go to the 'shore' and find some more unique shots. It also helped that it was so sunny I was not too keen to get back to the office!
So case in point: Don't beat yourself up if you hit the snooze button for your AM run, just fit it in later (commit to it!)
Food
I am happy to report I have tried some pretty tasty smoothies and starch-less lunches this past week!
Caramel Apple Smoothie
(via PopSugar): This was our dessert one night after dinner. It was very easy to whip up and I found all the ingredients at my local Tesco Metro. had to swap out almond milk for coconut milk due to nut allergies in the Moose house. Still tastes delicious. Clever idea using the dates to simulate the caramel flavour. Husband approved as well so another big bonus there. Made two large glasses + a little left over I brought into the office next day as a snack.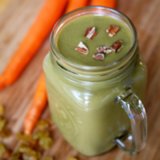 Carrot Cake Smoothie
(via PopSugar): Not a vegan but of course a delicious recipe for those that are. I was able to buy a small package of protein powder at a Holland & Barrett, which is good because protein powder is expensive and I am not sure if I need 2 tons of it. Again I used coconut milk which I think detracted a bit from the desired flavour, but all in all it still tasted pretty delicious. This was a breakfast substitute. Made one serving as stated.
I have a bit of powder leftover so I have been adding bits to my porridge in the morning.
This one also made me realise if I wanted to really get involved making more smoothies I would have to invest in a proper blender. The stick blender was doing a wonderful job, but is was still leaving 'chunks' so it made the smoothie experience more of a bumpy experience. Live and learn!
Ribboned Carrot Salad
(via PopSugar): This was our lunch for two days (so four servings) and boy was it fantastic. I still do not have a spiraliser but Tesco is hip to the trend (and eager to capitalise) so they have pre-spiralised carrots and courgettes available for purchase. I also bulked out the salad by adding broccoli and chicken, but you could substitute pretty much anything that you would normally put in a stir-fry (sugar snap peas, tofu, baby corn). As all the spiralising was done for me, the hardest bit was cooking the chicken and shredding it into the salad.
Very filling and satisfying for lunch. I recommend letting your portion sit out for about 5-10 minutes prior to eating as sometimes cold cooked chicken can have a weird texture right out of the fridge.
I was getting some curious co-workers ambling over to see what I had, that NEVER happens with a sandwich!
Nusa Kitchen
: This place has some amazing soups (there salads look fantastic as well) and the best thing is you can choose to have it with rice or without. It can also come with a nice dollop of yogurt or a healthy sprinkling of coriander. If you do not want rice, you can opt for a free piece of fruit instead. Their menu is changing weekly but if you see vietnamese chicken with sweet potato soup- get it. You will not be disappointed. Don't be scared of the queue which seems to never end, it goes quick!
Present Conundrum
We -still- have sweets leftover from Christmas. What do I do with them? I can't freeze them all, and refuse to throw them out. I am wondering if 'a treat a week' will work... at this rate will have Twinkies for like 2 months :(